Miss Wit - Endorsing Stewart and Colbert Since 2004.
Miss Wit - Endorsing Stewart and Colbert Since 2004.
From the archives still alive: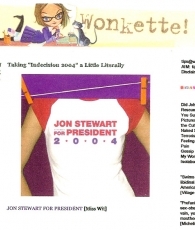 Now Only $8

Are you totally psyched about the Electoral Process?

A New Day is Dawning but we still love our Men!

It has been four year's since Miss Wit's trailblazing
original endorsement of Jon Stewart

Get this commemorative piece of history before it goes away completely....

"Colbert '08. Oh Yeah. IT'S ON!!!!!"
Shirt.

Voted IN
Star Magazine
A MUST BUY
Metro NY

Stalker notes from MissWit: She has a signed autographed photo birthday wish to her, from the man himself, written in one of those spray paint pens that you shake and smell good. He says, "this is not a proper gift." And once when she saw him in a store, she did not stalk she just politely introduced herself as the character who put this other character's name on a shirt to be president, and he said "hey that is the nicest thing anybody's ever said about me on a shirt. "

And then once again at a staged book reading, MissWit's friend went up and threw the shirts to Stewart and Colbert. Holding it up,
he asked "people buy these things?" Gracious and humble.

Here's What the People Were Saying back in 2004:

"Thank you, you freakin genius for making this shirt! "

"This Tee is taking the net by storm....catch the wave."

"Even if it fit her like a burlap sack I think she'll love it."

"I am so interested in a Jon Stewart for President 2004 tee shirt."

"I got it today, thank you so much MissWit. I looooooove it'"
(12 year old purchaser!)

"Thank you for designing such a wonderful product"
(media exec. who received major raise after giving the shirt as a gift to her boss!)"

I love my Stewart Colbert shirt. I am wearing it today with my Wonder Woman necklace. Why, you ask? Because: a) I wish that a pair as intelligent, funny, and informed as Stewart and Colbert could someday grace the halls of the White House (and please, Jon Stewart, don't start cheating on your wife, okay?). and b) Because I wish I could cast the Lasso of Truth around Dubya and Dick and cinch it nice and tight -- I might put Don Rumsfeld in the mix as well.
---
Ladies Cut -

$8

white

Unisex Cut -

$8

white

All Styles

Please Refer To Size Chart Before Ordering!